CIPR
The Never-Ending Scandal: supporting the CIPR to push for lobbying reform
Agency client the Chartered Institute of Public Relations (CIPR) is the body for UK lobbyists.
CIPR has long argued that the 2014 Lobbying Act is not fit for purpose, and that the statutory register is blind to a huge amount of lobbying: evidenced by a never-ending slew of scandal caused by unethical practice.
The challenge, the CIPR had found, was that though interest in such scandals is intense, it is difficult to focus media attention beyond the usual partisan criticism of one party by another. Securing a voice for anyone outside of MPs or the official Registrar had not proved easy.
To cut through, we conceived and drafted a definitive report that underlined the flaws in the current rules, captured the views of the general public and – for the first time – analysed the position of Parliament, while making the case for reform.
The report generated widespread coverage including the BBC, Bloomberg, Daily Mail, the Evening Standard and 240 regional newspapers. More importantly it proved an effective vehicle to broker conversations in Parliament among MPs and lobbyists themselves.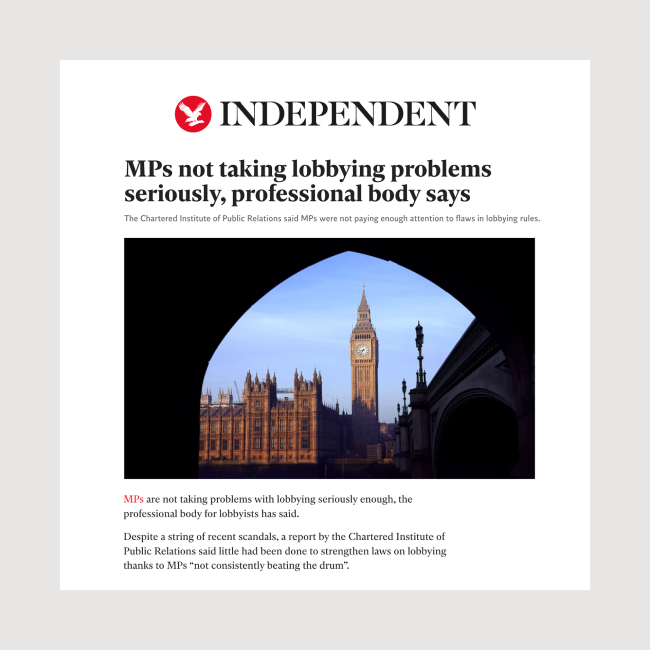 "Lobbying is of such importance to what we do at the CIPR, not to mention the democratic process. For years we've been faced with Parliamentary inertia, so we needed a way to both raise the profile of our call for lobbying reform whilst also spurring lawmakers into action. The report has done precisely this, providing not just significant coverage, but also the material we need to effectively lobby MPs for reform.
It was a pleasure to work with Farrer Kane & Co, which devised and produced a definitive report in just two weeks, requiring huge amounts of number crunching, whilst also making us the voice of lobbying reform."
Jon Gerlis, Head of Public Relations and Policy at
Chartered Institute of Public Relations