News
The Never-Ending Scandal: the CIPR's latest report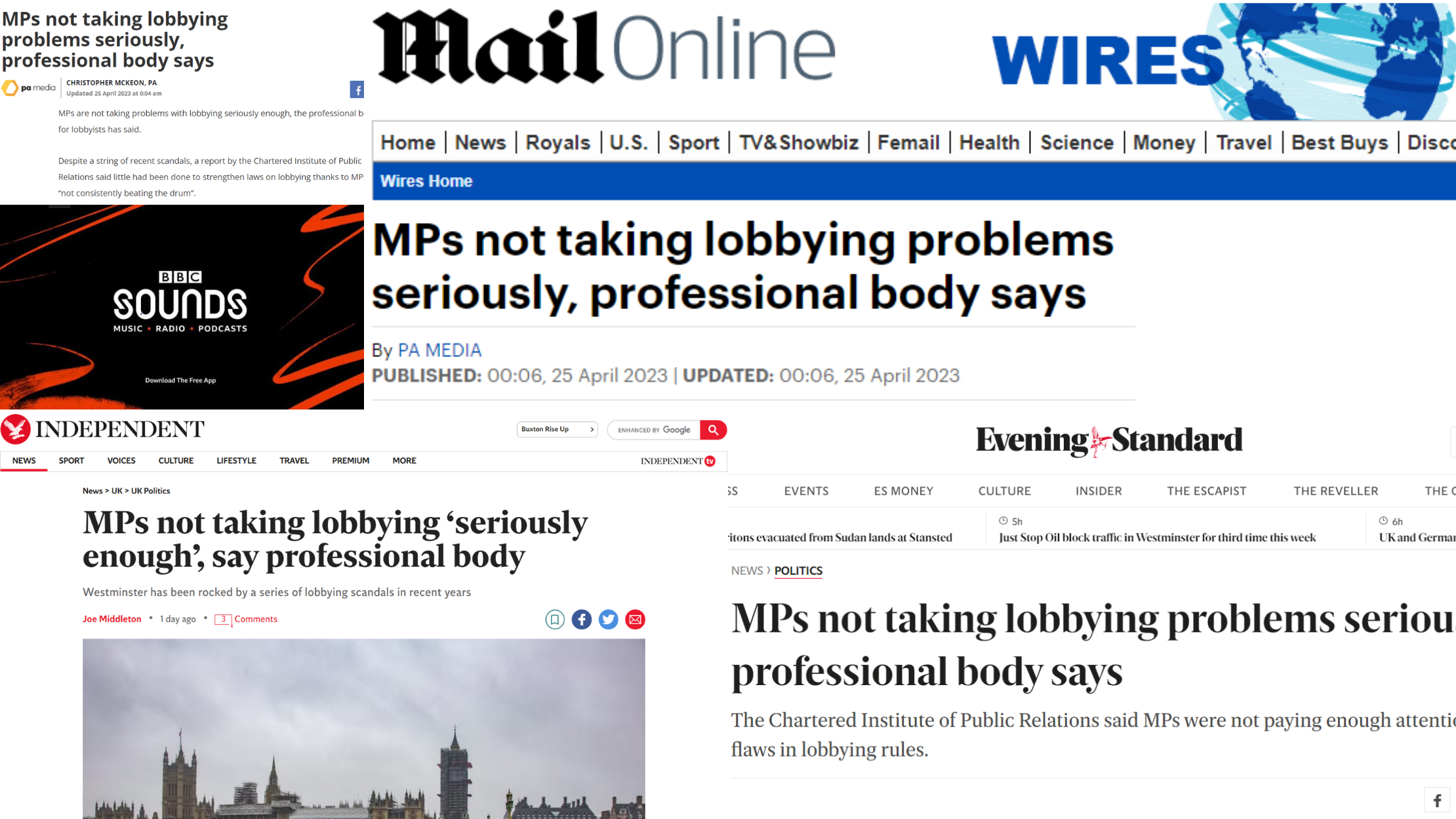 Since the last election at least, it seems that stories in the press about lobbying scandals have been never-ending.
From allegations involving a former Prime Minister through to sitting MPs, unethical lobbying not only appears to be flourishing, but risks seriously undermining confidence in the UK's political system. The problem lies in the fact that the 2014 Lobbying Act, which created a statutory register, contains so many loopholes and exemptions that it is blind to the overwhelming majority of lobbying.
Our client, the Chartered Institute of Public Relations (CIPR), is the official body for UK lobbyists. Having set up its own voluntary register in 2015 to try and address the deficiencies of its statutory sibling, the CIPR is leading the charge in calling for a reform of lobbying rules through its Lobbying for Good Lobbying campaign.
A creative approach
To cut through on the issue, and demonstrate the worrying lack of Parliamentary interest in reforming rules, we worked to develop a definitive report that highlights the flaws in the rules; captured the attitude of MPs on the subject; and tried to advance the cause of reform.
To do so we partnered with PolicyMogul – a Parliamentary monitoring platform – to analyse every single reference to lobbying made in the Lords and Commons since the 2019 election using data pulled from Hansard. The results were stark:
Three in four MPs have not explicitly raised lobbying – concerns, specific instances or lobbying rules – since December 2019
None of the three main parties is leading on the issue, with only 9% of Conservatives; 17% of Labour; and 14% of Liberal Democrat MPs explicitly raising the Lobbying Act in Parliament since December 2019. Overall, for explicit references to the Lobbying Act, the figure stands at just one in eight MPs
Parliamentary mentions of lobbying average nine a month, with spikes occurring in the wake of high-profile scandals, but then as quickly dissipating
These figures formed the centre piece of the eventual 6,500-word report – The Never-Ending Scandal – which was then packaged up and canvassed to the press.
From an appearance to discuss the findings on the BBC through to print coverage in the Daily Mail, Evening Standard, Independent and 240 other titles, the report has certainly resonated with the media, and the wider public.
Perhaps more importantly, on the day of its launch, the report was discussed at an event with MPs and lobbyists at Parliament itself.
As an agency, we are delighted to work with the CIPR and are strongly supportive of the Lobbying for Good Lobbying campaign. Transparency should sit at the heart of our democracy – and lobbying reform is the place to start.
Read the full report here.